You've designed the perfect lesson and your check for understanding revealed that not everyone understood.  Now what?
It could very well be that you cannot teach this particular student.  So where does your responsibility lie or do you even have any?
Perhaps all you need to do is inform your supervisor and/or the student's parents?
What if you are the parent?
What you should know is what blocks a student from learning, his strengths, your strengths, limitations and resources.
There are so many reasons that a student may not be performing the way we would like.
Here are some show stoppers, in no particular order: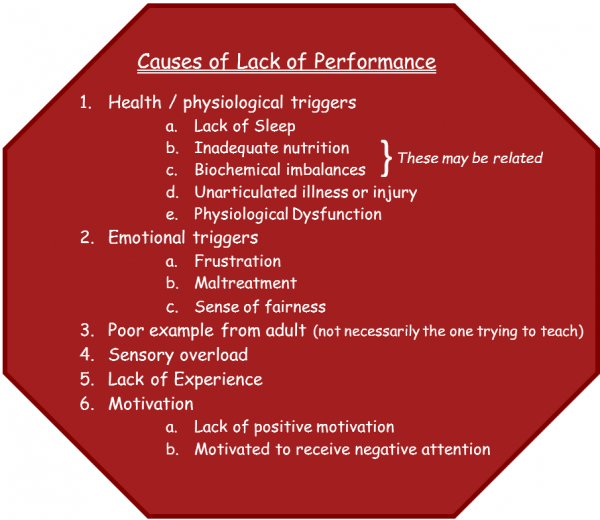 There is much to discuss here.    The most important thing to remember is this, no one wants to fail.  Even the child who would rather not try does so to avoid active failure.  Teachers  need to not take the student's failure personally, but rather be curious about why this student is not learning.  What observations can we make to try to ascertain which of the factors listed above are contributing to this learner's struggle?
As an example, I once tested a child who was suspected of having ADD due to the teacher observing he could not stay in his seat.  I began my assessment and things were going fine.  For the third part of my assessment, at least 45 minutes into the process, I asked this 9-year-old to write his name at the top of the record form for me.  He promptly got out of the chair, proceeded to kneel on the edge of his seat and grasped his writing hand at the forearm with his non-writing hand.  Mystery solved!  This boy did not have ADD.  He had a spatial awareness problem, for which he had to hold his arm to know where it was.  I referred to an occupational therapist to remediation.  The parents reported that a few months of therapy and he was a new person.
In this situation, the teacher did not make a completely accurate observation.  It is important to note the difference between a child with "ants in his pants" and one who is falling out of his seat because he is improperly seated.

Do you know proper seating posture, particularly for writing?
For assistance in finding your or your child's stops schedule a comprehensive physiological assessment at the Hearing Kids clinic here