In part one we discussed the difference between an observation and a judgement.
Ideally you would have the opportunity to have all the relevant and varied discipline specific professionals present on how to improve the proficiency of your observations for better targeted referrals.  Until this comes to fruition what can you do?

I like to call this process the "Whole Task Analysis".  It is very common for instructors to think about the sequence of steps necessary to accomplish a task.  This makes it easy to recognize where in the process the learner is getting stuck.  The next step is to think about why the learner is getting stuck specifically at this point?  What physiological functions are needed to succeed here?  Who is the appropriate professional for this function?
As an example, let us look at the task of writing in very broad terms.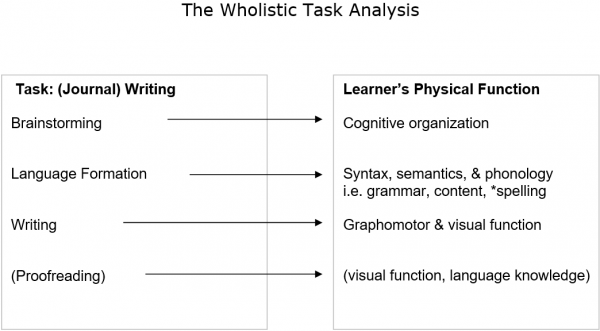 The expected level of performance for each of the particular components would depend on the age and experience.  If you were teaching an adult ESL class to new immigrants, you could not expect the same level of performance that you might of 7th graders born and bred here.  However, it is necessary to know what you can expect of your immigrants so that if some student(s) seem to be struggling more than expected you can focus your observations to try and figure out why they are having difficulty.  This example also demonstrates a point we have made previously, that obviously it is not chronological age that dictates our expectation.  Here (language) experience is a bigger factor than age.

Differential diagnosis can be very tricky, especially in situations where more than one thing may be going on.  Professional bias can also be hard to overcome.  An interesting example of this that I deal with professionally quite a bit is the child who will not participate in class.  The SLP may label this child as "selective mutism".  The Social Worker may label this child as extremely "shy" perhaps due to anxiety.  In my work I have discovered something interesting, in some cases the child has auditory sensitivity (as per the Sensory Profile® questionnaire) or misophonia.  This sound sensitivity creates anxiety and causes the child to choose flight over fight in their reaction.  (There are a couple of choices to treat this.  You can either use sound therapy to adjust the function of the acoustic reflex so that it no longer over reacts to "normal" sounds, or you can use a cognitive based therapy to show the person that their reaction is unwarranted as they are in fact safe and have no need to be anxious.)  When we focus on why the child is responding in the way that they are instead of simply treating the behavior (lack of participation) we can end up with a more appropriate, and as a result more effective, treatment provider.  Because of the complexity of differential diagnosis, it is insufficient to simply know the right discipline who deals with the concerns you have.  You need a provider who is broadly enough trained that their diagnostic abilities are superb.  To refer back to the example above, it would not be sufficient to find someone who specializes in "selective mutism". If this "expert" labels everyone who walks through their door as selectively mute and fails to recognize cases where there is an anatomical or other problem and proceed appropriately then no differential diagnosis is occurring.  This concern is even greater with the ADD diagnosis as often an auditory processing or language processing disorder are mistaken for ADD.  In cases where ADD and APD are comorbid it is even more challenging and the APD is often overlooked.

Take one lesson you teach and break down the expected learner's performance into its individual steps.  Then flesh out what functions are involved in each step.
Best,